ALMA DE TANGO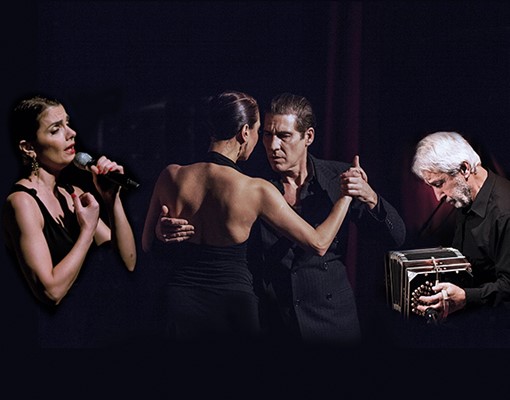 Music, song, dance and poetry... The magic equation of tango. Conceived under the musical direction of bandoneon maestro Juan José Mosalini, Alma de Tango combines nostalgia, sensuality and frenzy, all of which are characteristic of tango. The deep and intense expression of the singer Sandra Rumolino, the musicality and virtuosity of the musicians masterfully revisit (or even renew) some of the great pages of the repertoire on which the dancers (Jorge Rodriguez, Maria Filali) are enchanted.

Patrick LABESSE - Le Monde
ALMA DE TANGO

Somewhere between the "Orquestra tipica" of the Argentinean dances and the milongas, these balls of experienced amateurs where tango is learned, played, danced and experienced, the "Alma de Tango" program plunges us into the Buenos Aires of yesteryear, without turning our backs on modern tango. Created and directed by the great Argentinean bandoneonist Juan José Mosalini, this group brings together the most renowned artists in this repertoire, with Juan José Mosalini on the bandoneon, of course, but also Sebastien Couranjou on the violin, Diego Aubia on the piano, Leonardo Terrugi on the double bass, as well as the sublime Sandra Rumolino on voice and the great Jorge Rodriguez with his partner in the dance Maria Filali.

Juan José Mosalini, an undisputed reference in tango, who has played with Sálgan, Piazzolla, Caratini and Beytelmann, is inspired as much by the avant-garde as by the essence of puro tango. We find the rigour, sensuality, controlled energy, the intellectual and wild character of the genre, this incomparable beauty that we believe is reserved for the elite, when it is defined - and lived - as resolutely popular. The music imposes its rhythm on the dance and vice versa. Sandra Rumolino's sensual voice reveals all the intimacy of tango and traces an imaginary path to Buenos Aires.

A palette of emotions provided by a unique group !