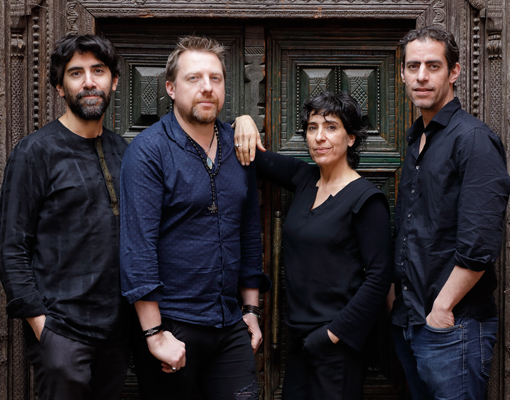 General management

HÂL
Keyvan Chemirani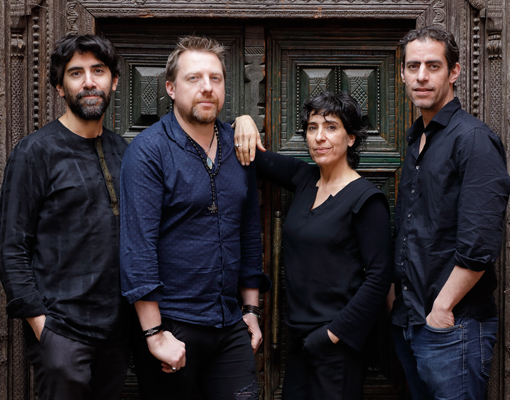 The prize goes without hesitation to Keyvan Chemirani's project entitled Hâl. He has brought together his brother Bijan, his sister Maryam and the flautist, Sylvain Barou, for a journey from East to West. Percussions, saz, santur, flutes, duduk... and Maryam Chemirani's formidable vocal mastery - and when I say mastery, I mean openness, emotion and humble restraint - all of this to follow a journey from Iran to India, passing through the traditions of Brittany, Ireland or Scotland. Without ever giving the impression of wanting to create a fashionable crossbreeding at all costs. Simply a human flight across borders. To be seen again and again.

5PLANETES
Maryam CHEMIRANI, voice
Sylvain BAROU, celtic flutes, bansouri, duduk, neyanban
Bijan CHEMIRANI, zarb, percussions, saz
Keyvan CHEMIRANI, zarb, percussions, santur, artistic direction
PRESENTATION
In the Chemirani family, we know Keyvan, a zarb and percussion virtuoso, and Bijan, an expert on the saz lute and also a percussionist. With their father, they formed a very famous trio... Less known is their sister Maryam, singer but also nurse, first in India following the footsteps of Mother Teresa, then in the Alpes de Haute Provence. Turned towards others and very busy in these troubled times, she has nevertheless decided to return to singing, at the instigation of Keyvan who imagined this programme for her and for her "warm and deeply generous" voice. Not forgetting their musical brother, the incredible flutist Sylvain Barou. At the crossroads of Iranian, Indian and Irish music, they have recorded an album called Hâl (pronounced "Hol") and subtitled "love ballads", because all the texts, whether sung in English or Persian, are love poems. The "hâl" corresponds to the moment when one lets oneself go, that ecstatic state between awakening and forgetting oneself...
A FAMILY AFFAIR
"Playing together as a family, on stage, has always been a special experience. Like a natural continuation of learning about life and music, like a return to one's sources and roots.
In the continuity of my previous projects (work around the Indo-Oriental modality, acoustic formation highlighting ornamentation, the richness of rhythmic patterns, back and forth between the festive and the meditative, room for improvisation within a precise framework...), I chose to centre it around the voice of my sister Maryam Chemirani, whose generosity, warm tone and charisma touch me deeply and deserve, in my opinion, a full and complete exposure.
With the marvellous virtuoso Sylvain Barou - about whom one could say, as Rumi said of the ney flute, that "it is not air that comes out of his flute, but fire! "With the delicate sensitivity of my brother Bijan Chemirani on the saz, and his astounding precision on the percussion, we have a luxurious setting, sometimes silky, sometimes lively, playful and luminous.
As is often the case, the need to open up the world of oriental modality is a necessity. [...]
"My road is on the path that my heart has taken" says Saadi. This journey made up of compositions and some rearranged traditional pieces (Irish, Turkish, Persian) is also a journey of love, following the philosophy of the Persian mystics, highlighting love as a philosophy of life! And may we together come closer to the hâl, that ecstatic state of both awakening and self-forgetfulness, which is sought after in learned Oriental music!"
KEYVAN CHEMIRANI