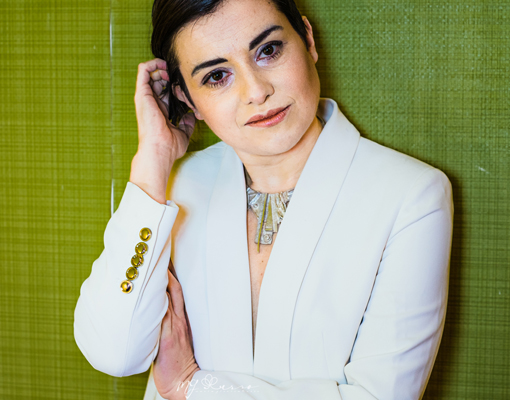 General management
Gaia PETRONE
mezzo-soprano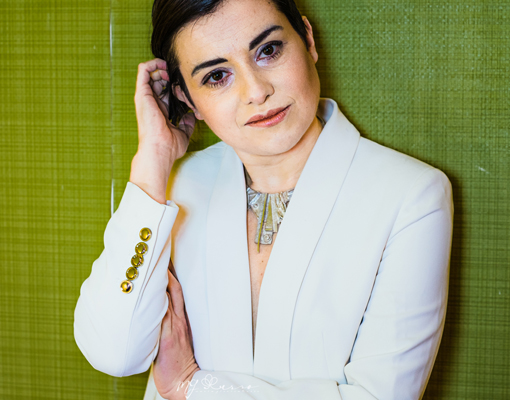 A true mezzo-soprano's timbre, rich and deep, with a dark colour that is immediately seductive, powerful emission and technical masteryThese are the qualities that the press never ceases to underline when they mention Gaia Petrone's stage appearances.
A graduate of the prestigious Accademia di Santa Cecilia in Rome and of the Royal Conservatory in The Hague, the Netherlands, this formidable young singer won First Prize at the Provenzale Competition in Naples and at the Valerio Gentile Opera Competition.
In 2012 she joined the young singers' ensemble of the Theater an der Wien, where she successfully performed roles as diverse as Clarina in Rossini's
La cambiale di matrimonio
, Medoro in Handel's
Orlando
, Sibari in Vinci's
Semiramide riconosciuta
and Sesto in Mozart's
La Clemenza di Tito
. She made her debut as Angelina in
La Cenerentola
, earning high praise from
Die Presse
:
'The highlight of the evening was Gaia Petrone. She sang an almost flawless Angelina, with an agile coloratura and a beautiful, controlled and supple mezzo voice'
. Shortly after this great success, she made her US debut as Rosina in
Il Barbiere di Seviglia
at the Palm Beach Opera. She sang Angelina again, a role she reprised for Europaincanto at the Teatro Argentina in Rome and the Teatro San Carlo in Naples.
At the same time, she gained an enviable reputation both on the opera stage and in concert halls, with appearances at the Théâtre du Capitole in Toulouse (Ursula in Berlioz'
Béatrice et Bénédict
), at the Teatro di San Carlo in Naples (Emilia in Rossini's
Otello
) or at the Karlsruhe Händel Festival (Ramise in Händel's
Arminio
in the exhumation led by Max Emanuel Cencic), not to mention tours with Smålands Musik & Teater (title role in Rossini's
La Cenerentola
) in Sweden.
In concert, she has sung Vivaldi's Gloria with the Gruppo d'Archi Veneto, as well as with the Wiener Kammersymphonie at the Musikverein in Vienna; Handel's
Dixit Dominus
and Bach's
Magnificat
under the baton of Marco Berrini; Schütz's
Musikalische Exequien
with Peter Neumann.
She made her UK debut in 2015 in Handel's
The Messiah
with the Royal Liverpool Philharmonic Orchestra conducted by Nathalie Stutzmann.
Recent engagements have seen her sing with The King's Consort (Abra in Vivaldi's
Juditha Triumphans
) at the Theater an der Wien, the Concertgebouw Amsterdam and the Opéra de Versailles. She has performed the roles of Proserpina and Ninfa in Monteverdi's
L'Orfeo
with Ottavio Dantone at the Teatro Ponchielli in Cremona; Maddalena in Rossini's
Il viaggio a Reims
at the Teatro dell'Opera in Rome; Isaura in Meyerbeer's
Margherita d'Anjou
at the Martina Franca Festival conducted by Fabio Luisi; Aurora and Fosforo in Landi's
La Morte d'Orfeo
with Christophe Rousset and Les Talens Lyriques at the Amsterdam Opera (directed by Pierre Audi); Erodia in Stradella's
San Giovanni Battista
with Damien Guillon and Le Banquet Céleste at Angers Nantes Opéra and Opéra de Rennes; Iris in Silvia Colasanti's
Proserpina
at the Festival des Deux Mondes in Spoleto in 2019; Edvige in Handel's
Rodelinda
at the Chilean National Opera and Cleone in Rossini's
Ermione
at the Teatro San Carlo in Naples, a theatre that she frequents regularly.
Upcoming projects include the role of Sabina in Donizetti's
Le nozze in villa
at the Zaida in Rossini's
Il Turco in Italia
at the San Carlo in Naples; Herodiade in Stradella's
San Giovanni Battista
with Václav Luks and the Collegium 1704 at the Concertgebouw in Amsterdam in Amsterdam.
His discography includes a live recording of
Il mondo della luna for the Bongiovanni label and the Czerny's version of Mozart's Requiem for the Naxos label. Last season she recorded Stradella's San Giovanni Battista with Damien Guillon and Le Banquet Céleste (Alpha classics).