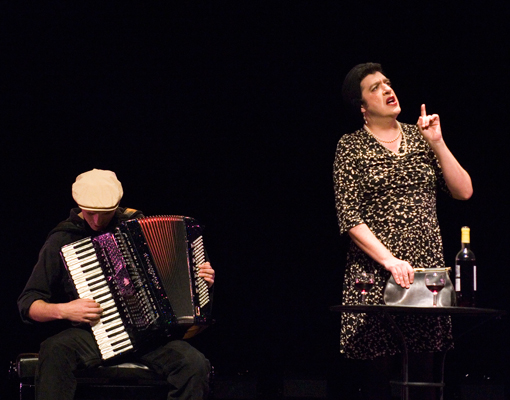 General management
MADAME RAYMONDE
Denis d'Arcangelo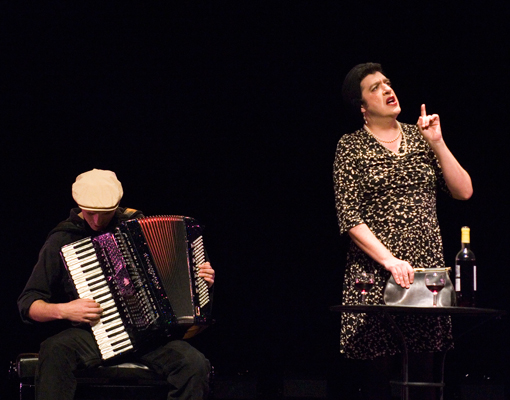 Sowing in the wind compositions (Lou Reed, Aragon...) that any author would be jealous of, the actor-singer confers an incredible intensity, well helped in his project by his inseparable Zebra (Sébastien Mesnil, ace accordionist). We leave the show beating our brains out and admiring it. In this genre, Lady Raymonde is a kind of miracle: a great show of atmosphere and staging.

A NOUS PARIS
A hell of a character, Mrs. Raymonde!
High heels, fitted dress, elegant pearl necklace and lipstick a little too forced, she seems straight out of a Marcel Carné film.
The character of Madame Raymonde played by Denis D'Arcangelo has both guile and panache. On stage, she talks a lot, plays with the audience but with such tenderness that she creates a moving complicity with them. But be careful, don't think she's chewing her words! Madame Raymonde takes us on a tour of popular singing where, accompanied by Sébastien Mesnil, her inseparable accordionist, she performs a beautiful repertoire that is both bold and tender, often funny and sometimes poignant.
Full of life and character, this spiritual daughter of Arletty sometimes gives herself up to nostalgia and emotional memories, but it is to make us laugh to tears. His common sense and humour have already seduced a large audience, who never tire of finding a unique character, one that we regret not meeting more often.
... and if you prefer the history of history:
In 1988, Philippe Bilheur and Denis D'Arcangelo met Arletty, of whom they are great admirers, and went to play in the street, of which they were also passionate, with a barrel organ... From these two passions was born in 1989 a character very inspired by the role of Arletty in "Hôtel du Nord", Madame Raymonde...
With imitation gradually giving way to creation, Philippe Bilheur wrote the dialogues of three street plays featuring the character played by Denis D'Arcangelo, and then they finally co-wrote a first recital of realistic songs, carried by the "Diva du Petit Monde" on the stage stage. Success is on the rise, and as the new versions of her singing tour are released, Madame Raymonde continues to seduce and move a large audience.